Welcome
Devlib.NET
is devoted to developing intuitive, easy-to-use software products for different categories of users.
Our products are all designed, built and tested to meet today's strictest requirements of users looking for the highest quality solutions.
Product Highlights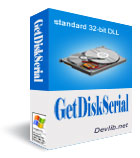 Easy to read the unique serial number of hard disk In your windows application.
GetDiskSerial.DLL is a standard Windows DLL that does not depend on the "support" libraries. You can use it to read the serial number of the hard disk easily. As we all know, this serial number is unique in the world. So this DLL is of great use, for example, you can use this serial number to create a machine id or encrypt number.
- GetDiskSerial DLL v5.10 Released!
- REAL serial number of the hard disk. NOT Partition ID, NOT Volume ID!
- Not require administrator rights in Win XP/Vista/Win7/Win8/Win10!



---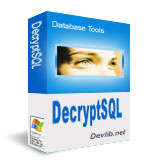 Quick and Exact to decrypt MS SQL Server stored procedure, trigger, function, view.
Do you have such kind of experience that you can not view the complete SQL Script because of "WITH ENCRYPTION" when you view the Stored Procedure, View, Trigger, or Function of MS SQL2000, MS SQL2005, MS SQL2008, MS SQL2012, MS SQL2014, MS SQL2016, MS SQL2017, and MS SQL2019? If yes, the DecrypSQL can help you to view the complete SQL Script quickly and exactly. DecryptSQL is well suitable for programmers and DBA . Also for Accounting Firms and Auditors .
Now feel the convenience of DecryptSQL!
- DecryptSQL v4.00 Released!




---
Quick to Decrypt protected Adobe Acrobat PDF file and Removing restrictions on printing, editing, copying.
DecryptPDF can be used to decrypt protected PDF files, which have an "owner" password set, preventing the file from editing (changing), printing, selecting text and graphics (and copying them into the Clipboard), or adding/changing annotations and form fields. PDF decrypt is being done instantly. Decrypted files can be opened in any PDF viewer (e.g. Adobe Acrobat Reader) without any restrictions --- i.e. with edit/copy/print functions enabled. All versions of Adobe Acrobat are supported.
- DecryptPDF v3.00 Released!