DecryptMSN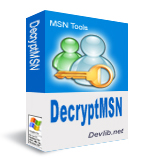 Quick to Extract your Windows MSN Messenger and Windows Live Messenger Password.
DecryptMSN allow you recover lost or forgotten password for your MSN Messenger or Windows Live Messenger accounts.
DecryptMSN is the best MSN Messenger password finder that quickly recovers lost or forgotten passwords for your MSN Messenger, Windows Live Messenger and Windows Messenger accounts. It works when the "Remember my password" or "Sign me in automatically" tickbox is checked in the messenger and you are able to login automatically without entering your password.


Key Features
Easy to use.
Recover passwords for Windows Messenger, MSN Messenger, Windows Live Messenger 8, Windows Live Hotmail, MSN Explorer.
Recover logins and passwords for Windows Live Messenger 9 (2009). [NEW]
Recover forgotten, lost or saved passwords to all MSN & Hotmail accounts.
Crack and decrypt the MSN Messenger passwords saved on your computer.
All passwords are recovered instantly, regardless of the length of passwords.
User-friendly interface. It is quite easy to use.
FREE technical support.
FREE update.
Screenshot
Awards & Reviews
---